sainthills
biography
"all that is life is all that is your mind"
5

May 9th, 2015 + 9:05 PM
·

sainthills
Whats up guys? I produce on Logic Pro X, and I'm looking for a piano AU plugin. Hoping to find some more real timbres. LPX has some pianos, but even though I alter their velocity, it still sounds very midi-ish, especially when compared to a real piano. Any suggestions ?
15

April 16th, 2015 + 10:04 PM
·

sainthills
Hey everybody I was wondering if I could get some feedback on this song I wrote (please watch the video, it gives the song another vibe! plus it took a lot of hard work haha):
https://www.youtube.com/watch?v=swogYqd_xb0
Lyrics:
Everyday I wear a mask
And play chess with kings and gnomes
Acting on stage, as if i knew my name
but deep down inside in the rabbit hole
Im lost in a maze
Its falling falling
I might be, insane
Im calling, calling
Help from above
Push from below
Please show please show me
Who's the actorx2
Ohhh
Everyday I accelarate
Not quite sure if i wanna crash
Its shining bright
But it burns my eyes
Name calling, start a fight
I'm not quite sure if its
Red or green
Boom its done
Im in the scene
Im screaming, im screaming
Can't rationalize
I'm bleeding, im bleeding
Someone save my life
Help from above
Push from below
Please show please show me
Who's the driver
Ohhh
Please show please show me
Who's the passenger
Alias:
sainthills
Status: Offline
Threads:
2
Posts:
13
Songs:
1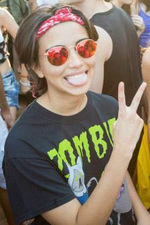 Joined: April 16th, 2015
Last login: June 09th, 2015